20th - 27th  July 2020
Up  to 8  participants. Retreat  leaders :
Basia Goodwin,  Bertrand  Gamrowski
PRICE
1,300€  single  ensuite
1,200€  shared  ensuite (per person)
---
---
Deepen your appreciation for the Camino and the treasures of the region by exploring the sacred architecture of various epochs through presentations, practical art classes and visits.  Experience geometry as a universal language and a meditative and contemplative practice.
Draw inspiration from visits to exquisite 5,000 year old petroglyphs at sunrise, Roman mosaics, a 10th c. pre-Romanesque monastery and the 13th c. Gothic Cathedral of León. You will collect gorgeous Camino earths and learn how to prepare and paint your beautiful geometrical constructions with natural pigments.
This  will  also  be  your  opportunity  to  spend  some  quiet  time  in  nature  on  the  Camino  de  Santiago.  Go  for walks.  Enjoy  home - cooked  healthy meals  under  the  pergola.  Share  with  others  and  enjoy  the  quiet  of  the  starlit  Milky  Way.
---
---
Preliminary   timetable   for  20th - 27th  September 2020
Sunday 20th.     Arrival & Welcome
15h-19h Check-in
19h30
Induction tour & Welcome dinner
Bringing the group together
Day 1 - Monday 21st - The Camino and its treasures     
Introductions:
Morning : Presentations: Camino as a rite of passage. Camino and its art - looking at sacred geometry and architectural treasures.
Afternoon : Presentation continued on the petroglyphs, labyrinths and spirals.
Day 2 - Tuesday 22nd - Prehistory to Roman times 
Early morning : sunrise visit to petroglyphs
Mid morning :  geometry
Afternoon: geometry explorations continued
Day 3 - Wednesday 23rd - Day Out *  Visits
Visit of León Cathedral, the Mozarabic church of San Miguel de Escalada,
and Roman mosaics of La Olmeda.    
 Day 4 - Thursday 24th -  Visigothic and Mozarabic
Morning: geometry 
Afternoon: learning how to prepare and paint with natural pigments 
Day 5 - Friday 25th -  Gothic
Morning: geometry looking at the rose window
Afternoon: painting designs with natural pigments or free afternoon for walking. 
Day 6 - Saturday 26th - Geometry continued
 Morning: Presentation / conclusion: from prehistory to Gaudí
Wrap up: exploring what has inspired us.
The group can decide what they wish to continue exploring 
Afternoon: more geometry or painting designs natural pigments 
Sunay 27th. Departure
Departure after breakfast 
---
The  price  includes :
Seven  nights  accommodation
All  meals
Visits
Teaching  and  materials
It  does  NOT  include  airline  tickets  or  travel  to  the  retreat  centre.  
---
---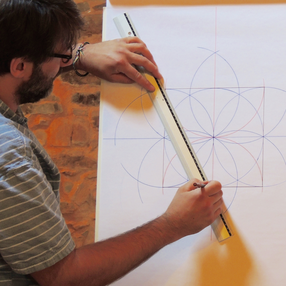 Bertrand  Gamrowski  (PhD)  has  an  educational  background  in  mathematics.  Basia  Goodwin  (MA)  studied  at  the  Prince's  Foundation  School  of  Traditional  Arts.  We  are  deeply  passionate  about  the  Camino  and  our  region.  We  have  a  unique  skill  set,  specialising  in  the  use  of  geometry  in  traditional  art  and  philosophy,  especially  the  art  and  architecture  of  the  Camino  and  Northwestern  Spain. Between  us  we  work  with  a  variety  of  mediums,  wood,  stained  glass,  ceramics  and  make  and  paint  with  natural  pigments,  using  beautiful  local  earth  ochres.  We  draw inspiration  from  nature,  exploring  pattern  and  rhythm,  form  and  the  formless.
---
HOW TO BOOK THIS RETREAT?
---
Once  we  confirm  you  can  join  the  retreat,  you  can  secure  your  place  by  making  a  300€  deposit.  The  remaining  amount  is  to  be  paid  two  months  before  the  retreat.  Refunds  are  only  available  if  you  can  find  a replacement  for  yourself.  You  can  make  the  payment  by  Pay Pal,  bank card,  bank  transfer  or  Transferwise  (contact  us  for  details).  Please  make  sure  you  cover  all  transaction  or  conversion  fees.  Please  read  our  full  Terms  &  Conditions.  In  making  a  reservation,  you confirm  that  you  have  read  and  understood  the  Terms  &  Conditions.
---
---