24 - 31  July 2021
Up  to 12  participants. Retreat  leaders :
Stephanie Ellis
Basia Goodwin,  Bertrand  Gamrowski
PRICE
Early bird  (before  October 31st 2020): 
1,500€  single  ensuite
1,400€  shared  ensuite (per person)
From November 1st: 
1,600€  single  ensuite
1,500€  shared  ensuite  (per  person)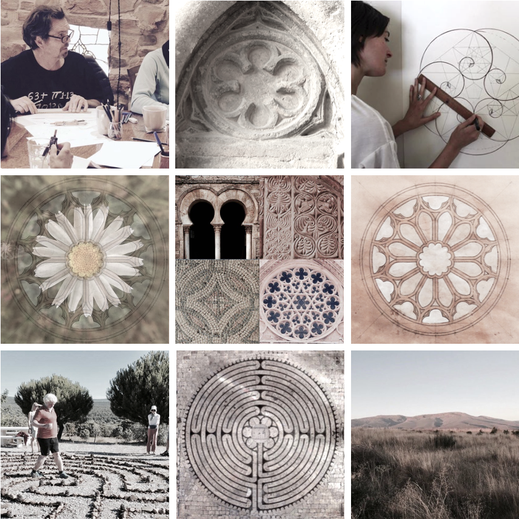 ---
---
Experience geometry as a universal language and a meditative and contemplative practice. Throughout the week you will explore geometry in sacred art, mandalas and biomorphic designs from along the Camino and relate it to other traditions from Eastern Asia. Practical art classes will be complemented with visits to local architectural treasures, such as 5,000 year old petroglyphs at sunrise, Roman mosaics, a 10th c. pre-Romanesque monastery and the 13th c. Gothic Cathedral of León. You will collect gorgeous Camino earths, learn how to prepare and paint your mandalas with natural pigments.
This  will  also  be  your  opportunity  to  spend  some  quiet  time  in  nature  on  the  Camino  de  Santiago.  Go  for walks.  Enjoy  home - cooked  healthy meals  under  the  pergola.  Share  with  others  and  enjoy  the  quiet  of  the  starlit  Milky  Way.
---
---
Preliminary   timetable   for  24th - 31st  July 2021
Saturday 24th.     Welcome 
15h-19h Check-in
19h30
Induction tour & Welcome dinner
Bringing the group together
Sunday 25th.     Unity
Introductions:
The circle and the Journey of the Soul (pilgrimage) 
One and Six: the Flower of Life (geometry) 
Introduction to Mandalas
+ Fiesta de la Magdalena (traditional village procession and dances)
Evening Intention fire (intention for the week)
Monday 26th.     Duality
Morning: Dual patterns 
Visigothic vs Bali Designs 
Afternoon: Colour: Introduction to pigments & colour therapy
Tuesday 27th.     Trinity
A full day exploring the perfect number .
Trinity symbolism in world religious traditions.
Theory + practical 
Wednesday 28th.     Day Out * Culture visit
Visit of León Cathedral, the Mozarabic church of San Miguel de Escalada,
and Roman mosaics of La Olmeda.
Thursday 29th.      The Circle & the Square  
Explore quatrefoils through the Lotus flower, Persian shamsa  and Pamplona Cloister  arched windows.
Friday 30th.      Spirals
Early morning visit of Peñafadiel petroglyphs
Exploring Labyrinths. Building a labyrinth 
Afternoon Workshop ~ using spirals for Biomorphic designs
Evening Intention fire (letting go)
The last supper.
Saturday 31st.
Departure after breakfast and before noon
---
The  price  includes :
Seven  nights  accommodation
All  meals
Visits
Teaching  and  materials
It  does  NOT  include  airline  tickets  or  travel  to  the  retreat  centre.  
---
---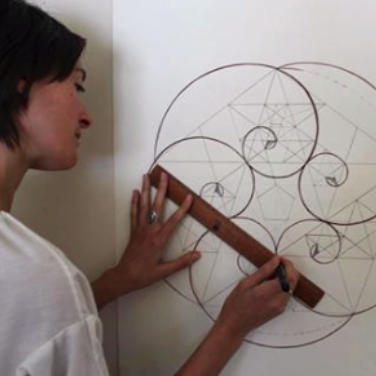 Stephanie June Ellis  is  a  professional  artist,  qualified  Colour  Therapist  specialising  in  sacred  geometry  and  biomorphic  art  which  span  culturally  worldwide  throughout  traditional  crafts  and  architecture.  She  passionately  engages  with  local  and  global  communities  offering  wellbeing  through  the  creative  process  with  a  focus  on  geometry.  Primarily  working  with  pen  and  ink  her  creative  practice  aims  to  transcend  viewers  beyond  the  physical  world  and  encourage  a  wider  vision  of  awareness  through  universal  patterns. See ABOUT for Bertrand and Basia's backgrounds. 
---
HOW  TO  BOOK THIS  RETREAT? 
---
We use the WeTravel platform to take retreat bookings.
You will need to click the GREEN SELECT BUTTON once you are on the WeTravel site.
---
---