12 - 18  September 2021
Up  to 8  participants. Retreat  leaders :
Nicholas  Durnan
Basia Goodwin,  Bertrand  Gamrowski
PRICE
Early bird  (before  March 1st 2021): 
1,100€  single  ensuite
1,000€  shared  ensuite (per person)
After March 1st: 
1,200€  single  ensuite
1,100€  shared  ensuite  (per  person)
The  first  couple of  days  will  consist  of  presentations  on  the  Camino  and  its  architectural  treasures as well as practical drawing classes that will explore aspects of the designs looking at their visible, hidden and symbolic geometry.

We will visit some of these treasures that our on our doorstep; a

ncient 5000 year old petroglyphs with exquisite carvings of labyrinths and other geometrical forms, the 1oth century church of San Miguel de Escalada with visigothic designs, the 12th century church of San Isidoro as the 13th  c.  Gothic  Cathedral of Leon.  

After  the visits  you  will  be  guided  by  Nick  Durnan  (stonemason  and sculptor  specialising  in  medieval  art,  with  40  years  experience  working  in  English  Cathedrals).  learning  to  carve  some  of  these beautiful  designs  yourself

.

This  will  also  be  your  opportunity  to  spend  some  quiet  time  in  nature  on  the  Camino  de  Santiago.  Go  for walks.  Enjoy  home - cooked  meals  under  the  pergola.  Share  with  others  and  enjoy  the  quiet  of  the  starlit  Milky  Way.
---
Preliminary   timetable   for  12th - 18th  September 2021
12th      Arrival between  4pm  &  7pm. Welcome  dinner  at  7:30pm.
13th      Presentations on the Camino and geometry and nature.  Exploring  León cathedral  and  its  geometry. 
14th      Visit  &  design  preparation
15th     Carving
16th     Carving
17th      Carving
 18th     Departure  after  breakfast.
---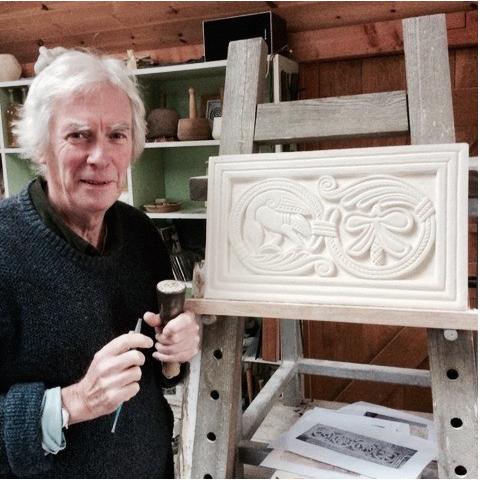 Nick Durnan has over 40 years experience as a stone mason, carver and sculptor conservator of historic buildings. He originally trained as a stone mason at Canterbury Cathedral in the Uk and has a degree in stone carving and conservation at the city and Guilds of London Art School. He has been a freelance conservator, conservation consultant and carver since 1984 and has worked in many English cathedrals including Exeter, Wells, Salisbury, Canterbury, Rochester and Peterborough. Recent projects include making and installing a Cosmatesque mosaic around the high altar at Buckfeat Abbey and. Carving commissions include making a full size reclining Buddah statue at Jamyang Meditation Centre in london in traditional Tibetan style. His current sculpture is focussed on the beauty of natural geometric forms. Follow the links below to learn more about Nick 
www.alabastercarving.co.uk,  www.nicolasdurnan.co.uk 
---
The  price  includes :
Six  nights  accommodation
All  meals
Visits
Teaching  and  materials
It  does  NOT  include  airline  tickets  or  travel  to  the  retreat  centre.  HOW  TO  GET  HERE ?
---
---
We use the WeTravel platform to take retreat bookings.
You will need to click the GREEN ´SELECT' BUTTON once you are on the WeTravel site.
---