29  March - 5  April 2021 
This retreat is limited to 10  participants
Retreat leaders : 
Alexander  John  Shaia
(with Bertrand Gamrowski and Basia Goodwin)
PRICE
ensuite single 1,295€
---
---
Through  presentation,  ritual  gestures,  poetic  prayers,  contemplative  exercises  and  quiet  walks  Alexander  John  Shaia  invites  you  to  recover  the  mystical  Easter  of  early  Christianity  (pre  500  CE).  There  will  also  be  some  optional  gentle  explorations  in  sacred geometry  and  painting  with  natural  pigments  with  Bertrand  Gamrowski  and  Basia  Goodwin.
 This  ancient  Easter  celebration  is  quite different  from  the  ones  we  know  today.  It  prays  with  the  cosmos,  recognising  that  earth's  daily  movement   through  darkness  to  sunrise  and  tells  the  great  story  of  our  own  continual  dying  and  greater  rising.  The  core  symbols  of  this  Easter  are:  a  wash  basin,  the  four - armed  equidistant  cross,  a  fallow  stillness,  the  fruitful  dark,  dawn's  first  light  and  our  prayer  to  be  in  union  with  All  that  is  within  us  and  without.
What we Coming to Pray Again?
 If you have some familiarity with Roman Catholic/Anglican/Lutheran/ Orthodox traditions, you may recall that the final days of Lent hold a sequence of services known as "Holy Week." The eight days - Palm Sunday through Easter Sunday - were lovingly crafted some 700 years ago as a dramatic meditation on the imagined last days leading to Jesus' arrest, trial, death, and resurrection. What may come as a surprise is to know that this prayer is not the origin of Easter. Many centuries before "Holy Week", Christians marked Easter as a sacred Three Day (Triduum in Latin) or 72 Hour Festival - over three nights and three days. Christians celebrated the dynamic dying and rising of Jesus the Christ in the midst of their diverse community and family. The prayer of The Three Days? "That All may be One."
Like my sharing about Advent and Christmas, Easter is intended to be a journey with The Christ as we pray with the earth as she awakens from Winter and we move through the thrice repeated pattern of arriving at sunset, moving into darkness, coming to dawn, then full light and finally returning again to sunset. In my mind, there is no more valuable practice in these turbulent times than coming to know that our spiritual journey is an ever repeating cycle beginning with the arrival of darkness and ending with the arrival of the next darkness. Truly we travel from holy darkness to holy darkness.
Our earliest ancestors believed that as we participate in this repeating cycle of dark to light to dark again and that we deeply participate in an ever ongoing dying and rising with Jesus the Christ. And as we do so, we recognise that we live Paradise Today - powerfully expressed in the ancient Baptistries which were the Easter altar.
.. and then The Three Days were Gone
In the 7th Century, Christianity was thrust into a time of dramatic change. Roman civilization was gone. Churches suddenly became hospitals, police stations, government councils, schools, and churches as well. Education dimmed. In this new reality, the village priest was often the only one who could read and write a little. This is the cultural moment when we lost the entirety of the four Gospels, receiving instead some 60 gospel passages to be read each year on the same Sunday or Feast Day. Most likely, this greatly reduced reading matter was support for priests who had only a small ability to read and write.
This also appears to be the moment that atonement theory began to overtake theosis theology. Along with it, The Three Days of Easter began to fade. Gradually the four Passion accounts were lost to memory and it is easy to understand how Christians of that time slipped into a lesser truth, coming to believe the Passions were created imagined history of Jesus' last days. As decades and centuries passed eventually, this imagined history came to be woven into a powerful dramatic Passion Play or Pageant that extended from Palm Sunday to Easter Sunday. By the Middle Ages, this week-long prayer became known as "Holy Week."
Time to Begin Again
The Passions are about four distinct internal/eternal moments in us. The Four Passions are not about history, though based in history. Rather, they hold a distinct type of life question and spiritual practice.  As our understanding grows wider, so to must our prayer and worship. The Roman, Anglican and Lutheran traditions began restoration of the three days in the 1970s and 80s. The work dimmed in the 90s. And tragically by 2000, all research and efforts came to a standstill. I urge us to take up the work, all of us regardless of tradition. 
By grace, living a new form of human community was the spiritual practice and the true fulfilment of the ancient Easter. Can there be a more noble cause for us today? Do we not need to return to the ancient wisdom of our elders who wait to teach us how to create, sustainand deepen in a vital and diverse communion?
Let us begin so that we may offer our children's children a living Jeru-Shalom.
Alexander John Shaia
Open  to   people  of  all  faiths  or  non,  we  warmly  welcome  you  to  celebrate  Easter  with  us  at  Flores  del  Camino, on  the    the  Camino  de  Santiago. 
You  can  find  out  more  on  this  link  to  a  video  of  Alexander: "Being  the  Resurrection"   https://vimeo.com/312851040
---
---
Preliminary  timetable   for  29  March  -  5  April  2021
29th     Arrival in the afternoon, after 3pm, opening at 5pm and welcome evening meal
30th    Retreat
31st    Retreat
1st    Retreat
2nd  Retreat
3rd   Retreat
4th  Retreat
5th  Mid - day departure following closing ceremony. 
---
The  price  includes :
7 nights accommodation
All  meals
Teaching  and  materials
It  does  NOT  include  airline  tickets  or  travel  to  the  retreat  centre. 
---
---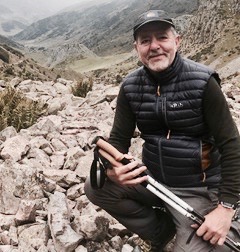 Alexander  John  Shaia,  PhD,  is  a  thoughtful  and  poetic  man,  living the  ancient  rhythms  of  his  Lebanese,  Aramaic and Maronite  (Eastern) Catholic  heritage.  He  is  an  author,  educator,  cultural  anthropologist, spiritual  director,  Jungian  psychotherapist  known  as  a  creative, multi - disciplinary  thinker  and  internationally  sought  out  speaker. With  deep  conviction,  he  invites  us  into  spiritual  practices  for  the 21st  century - ones  that  cross  traditional  boundaries,  encourage  vital thinking  and  inhabit  a  genuine  community  of  the  heart.  Each autumn  he  guides  a  small  group  of  pilgrims  on  the  Camino  Francés as  an  intentional  rite  of  passage.  And  for  more  than  forty  years,  Alexander  has  worked  to  recover  the  mystical  Easter  of  early Christianity.  He  lives  between  Santa  Fe  New  Mexico, USA  and  Galicia  in  northwest  Spain. 
---
---
Once  we  confirm  a  place  is  still  available,  you  can  secure  it  by  making  a  400€,  non  refundable  deposit.  The  remaining amount  is  to  be  paid  two  months  before  the  retreat.  Refunds  are  only  available  if  all  spaces  are  filled  or  you  can  find  a replacement  for  yourself.  You  can  make  the  payment  via  Pay Pal  to bg@floresdelcamino.com.   Contact  us  should  you  prefer  a  different  method  via  bank card  (via  phone  payment - see  phone  number  below ),  transfer  or  Transferwise.  Please  note to make  sure  you  cover  all  transaction  or  conversion  fees. Please read our terms & conditions.
---
---

join our newsletter
FIND  OUT  ABOUT  FUTURE  RETREATS  AND  OTHER  NEWS
Click on the icons below to share this post