23 - 30 May 2021
8 participants
Retreat leaders : Hanna Ward
Basia Goodwin assisting
PRICE
 ensuite single 1,200 €
 ensuite shared 1,100 € (per person)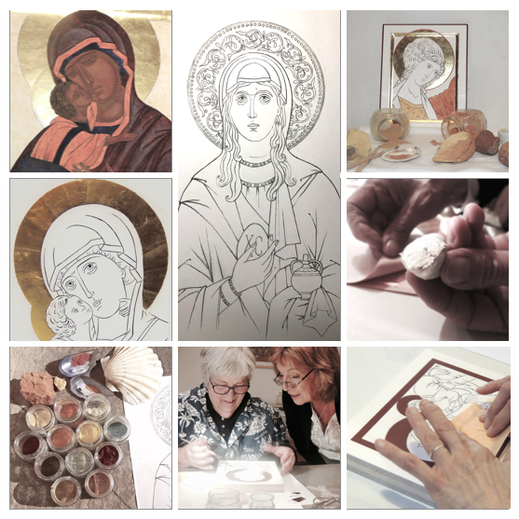 ---
---
This 7 day retreat at Flores del Camino  is all-inclusive with lovely rooms, a beautiful courtyard and seminar rooms for gathering, and healthy food, shared in the spirit of community.
You  will  be painting  Mary  Magdalene  (holding  red  egg)  using  the  1,500  year  old  icon  painting  technique.

You  will  learn  how  to  collect,  prepare  and  paint  with  natural  pigment,  egg  tempera  (egg  yolk  mixed  with  wine )  and use real  gold. 

This  will  be  your  opportunity  to  engage  in  a  meditative  process in  a  beautiful  and  nourishing  environment  on the  Camino  de  Santiago.  Throughout  the  week  we  will  also  be receiving  pilgrims  for  the  evening  meals.
This will be your opportunity to spend meaningful time on the sacred ground of the camino in the beautiful region of the Margateria just at the foot of the Leon mountains. We are located in the enchanting, special heritage site, the historic village of Castrillo, considered one of the most beautiful in Spain. The village is surrounded by vast nature and is an inspiring place to paint.  (Some of you may also wish to walk on after the retreat and make the 200km or so to Santiago from the retreatcentre. We offer pilgrims passports and advise).
---
---
Preliminary  timetable  for  24th - 31st  May  2020
23rd    Arrival between  3pm  and  7pm. Welcome  dinner  at  7:30 pm.
24th    Preparing the drawing / collecting and collecting  /  making our own pigments.
25th    Drawing  /  copying  the  image.  Preparation  of  the  egg  tempera  and  the  bole.
26th    Laying  the  clay  and  applying  gold  on  the  gilded  area.  Mixing  the  sankir  (skin  colour)  with  Camino  earths.  
27th    Paint  garment  and  background  colours.  First  highlights.
28th    Floats  and  highlights  on  face,  hair,  garment.
29th   Final  floats  and  highlights.  Graphic  lines  and  Divine  light for  the  face.  Finishing  the  details.
30th   Departure after breakfast.
---
The  price  includes :
Seven  nights  accommodation
All  meals
Teaching  and  materials
It  does NOT  include  airline  tickets  or  travel  to  the  retreat  centre. 
---
---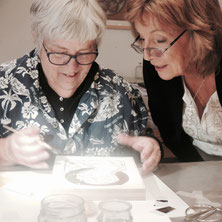 Hanna  Ward  has  researched  and  studied  iconography  under several  masters  from  Greece,  Russia,  Romania,  Finland  and  UK.  She  lectures  and  teaches  in  Finland,  the  UK  and  is  a  visiting  tutor  at  the  Princes  Foundation  School  of  Traditional  Arts,  the  Icon  School  of  Bethlehem  in  Palestine  and  joins  us  once  a  year  at  Flores  del  Camino.  She  regularly  paints  commission  pieces  for  churches  and  private  collectors.  
---
---
We use the WeTravel platform to take retreat bookings.
You will need to click the GREEN ´SELECT' BUTTON once you are on the WeTravel site.
---
---