16 - 22 April 2019
6 - 13 April 2020 
This retreat is limited to  8 participants
Retreat leaders : 
Alexander  John  Shaia
supported  by  Basia  Goodwin  and  Bertrand  Gamrowski
PRICE
 2020
ensuite single 1,295€
ensuite shared  1,395€
---
 Through  presentation,  ritual  gestures,  poetic  prayers,  contemplative  exercises  and  quiet  walks,  Flores  del  Camino  and  Alexander  John  Shaia  invite  you  to  recover  the  mystical  Easter  of  early  Christianity  (pre  500  CE).  This  ancient  Easter  celebration  is  quite different  from  the  ones  we  know  today.  It  prays  with  the  cosmos,  recognising  that  earth's  daily  movement   through  darkness  to  sunrise  and  tells  the  great  story  of  our  own  continual  dying  and  greater  rising.  The  core  symbols  of  this  Easter  are:  a  wash  basin,  the  four - armed  equidistant  cross,  a  fallow  stillness,  the  fruitful  dark,  dawn's  first  light  and  our  prayer  to  be  in  union  with  All  that  is  within  us  and  without.
Open  to   people  of  all  faiths  or  non,  we  warmly  welcome  you  to  celebrate  Easter  with  us  at  Flores  del  Camino, on  the    the  Camino  de  Santiago. 
You  can  find  out  more  on  this  link  to  a  video  of  Alexander: "Being  the  Resurrection"   https://vimeo.com/312851040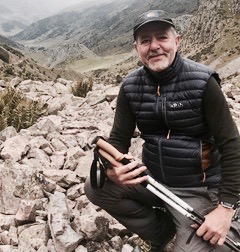 Alexander  John  Shaia,  PhD,  is  a  thoughtful  and  poetic  man,  living the  ancient  rhythms  of  his  Lebanese,  Aramaic and Maronite  (Eastern) Catholic  heritage.  He  is  an  author,  educator,  cultural  anthropologist, spiritual  director,  Jungian  psychotherapist  known  as  a  creative, multi - disciplinary  thinker  and  internationally  sought  out  speaker. With  deep  conviction,  he  invites  us  into  spiritual  practices  for  the 21st  century - ones  that  cross  traditional  boundaries,  encourage  vital thinking  and  inhabit  a  genuine  community  of  the  heart.  Each autumn  he  guides  a  small  group  of  pilgrims  on  the  Camino  Francés as  an  intentional  rite  of  passage.  And  for  more  than  forty  years,  Alexander  has  worked  to  recover  the  mystical  Easter  of  early Christianity.  He  lives  between  Santa  Fe  New  Mexico, USA  and  Galicia  in  northwest  Spain. 
Bertrand  and  Basia  live  on  the  edge  of  the  mountains  that  lead  into  Galicia  on  the  Camino  Francés.  They are  passionate  about  providing  a  container  and  holding  space  for  pilgrims and  all  those  seeking  time  on  this  path.  They  specialise in  the  use  of  geometry  in  sacred  art  and  philosophy  and  are  particularly  inspired  by the  parallel  between  pilgrimage, contemplative practise  and  the  process  of  creation  in  traditional  craft.   They  are  especially  dedicated  to  help  you   discover  and  explore  grounded  traditional  practices,  which  like  the  Camino,  can  support  you  in  your  journey  of  personal  and  spiritual  growth.
Preliminary  timetable   for  16 -22  April  2019
16th   Arrival in the afternoon, after 3pm, opening at sunset and welcome evening meal
17th   retreat
18th     retreat
19th   retreat
20th   retreat
21st  retreat
22nd  Mid - day departure following closing ceremony.
---
The  price  includes :
Six  nights  accommodation (7 nights in 2020)
All  meals
Teaching  and  materials
It  does  NOT  include  airline  tickets  or  travel  to  the  retreat  centre.  HOW  TO  GET  HERE?
---
Once  we  confirm  a  place  is  still  available,  you  can  secure  it  by  making  a  300€,  non  refundable  deposit.  The  remaining amount  is  to  be  paid  two  months  before  the  retreat.  Refunds  are  only  available  if  all  spaces  are  filled  or  you  can  find  a replacement  for  yourself.  You  can  make  the  payment  via  Pay Pal  to bg@floresdelcamino.com.   Contact  us  should  you  prefer  a  different  method  via  bank card  (via  phone  payment - see  phone  number  below ),  transfer  or  Transferwise.  Please  note to make  sure  you  cover  all  transaction  or  conversion  fees. 

join our newsletter
FIND  OUT  ABOUT  FUTURE  RETREATS  AND  OTHER  NEWS
Click on the icons below to share this post