INDIVIDUAL RETREATS
---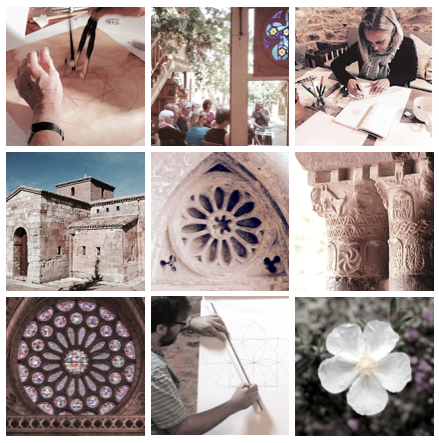 FOR WHO?   for  your  group.  
2 participants minimum, 12 maximum.  Suitable  for  beginners;  no  prior  experience  or  skills  needed.
FOR HOW LONG?   1 - 7  days. Presentations and workshops consist of modules of 1h30 minutes. Maximum number of modules 3 in a day. 
HOW DOES IT WORK?  Tell  us  your  time  frame  and  what  inspires  you  either from  the  list  below or from the retreats we run all year. We  can  tailor  a  retreat  for  your  group,  organise  visits according  your  wishes.  We  can  also make  suggestions  and  recommendations  based  on  our  most  popular  individual  retreats.
Choose  self-catering  or  our  homemade  food.
Contact us for availability and price quote.
Presentations and explorations on  the  Camino, symbols  of  pilgrimage  and  the  inward  journey.

 Deepen your appreciation for local treasures through visits, and presentations and  practical classes in  geometry in Camino architecture  ( this  is  a  meditative,  contemplative  creative process ).  For example : Study  the  beautiful  mosaics  of  La  Olmeda  exploring  their  beautiful  forms  and  the  principles  of  geometry  found  in  nature.  (such explorations  can  apply  to  other  visits :  the  Roman  mosaics  of  La  Olmeda,  the  mozarabic monastery  of  San  Miguel  de  Escalada,  the  Valley  of  Silence,  the  Visigothic  church  of  San  Pedro de  la  Nave,  León Cathedral).

Learn  about  the  ancient  petroglyphs  of  Galicia  through  workshops  and  presentations  in  preparation  for  a  sunrise / sunset  visit  to  incredible  local  5000  year  old  petroglyphs.

Paint  geometrical  designs  with  natural  pigments.
Learn  how  to  collect,  prepare  and  paint  with  Camino  earthen  pigments.

Make  a  stained  glass  piece.